In Association with our Headline Sponsor Chevron College

#cowexbizawards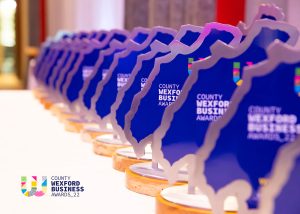 Click into each category to see named Winner & Runner Up:-
The County Wexford Business awards took place on Friday May 27th in Clayton Whites hotel Wexford town. It was a sold-out event with 500 guests in attendance at the stylish black-tie event.
Acting CEO Emma Dunphy said, "Congratulations to all the winners this year. The calibre of business applications for this year's awards have been outstanding.
The judging panel commented on the exceptional quality of this year's entries. Decisions were very hard and very close scoring in some cases.
No achievement in business is without adversity. It is those that persist, adapt, innovate, and respond to ever-changing environments, who will reap the rewards.
The County Wexford Business awards celebrate the vibrancy and diversity of our business community. It was a wonderful opportunity for companies to share how they have excelled, innovated, and contributed to our thriving business region."
President of County Wexford Chamber, Brendan Crowley said "From the get go, from a County Chamber perspective, it was brilliant to witness the passion and competitiveness demonstrated by so many entrants from across our county's various business sectors.  On the night the energy and positivity were palpable in the room where almost 500 guests enjoyed a night to celebrate the success of businesses, large and small.  On a personal level, it brought home to me how privileged I am to be President of such an innovative and progressive County Chamber at this time.  We have weathered the storm that was Covid and it is with the same resilience demonstrated by so many businesses, that will see us overcome the current and imminent difficulties brought on by the terrible war in Ukraine and the soaring rate inflation."
We look forward to profiling the winners of each category so you can learn more about why that particular business was the deserving winner.