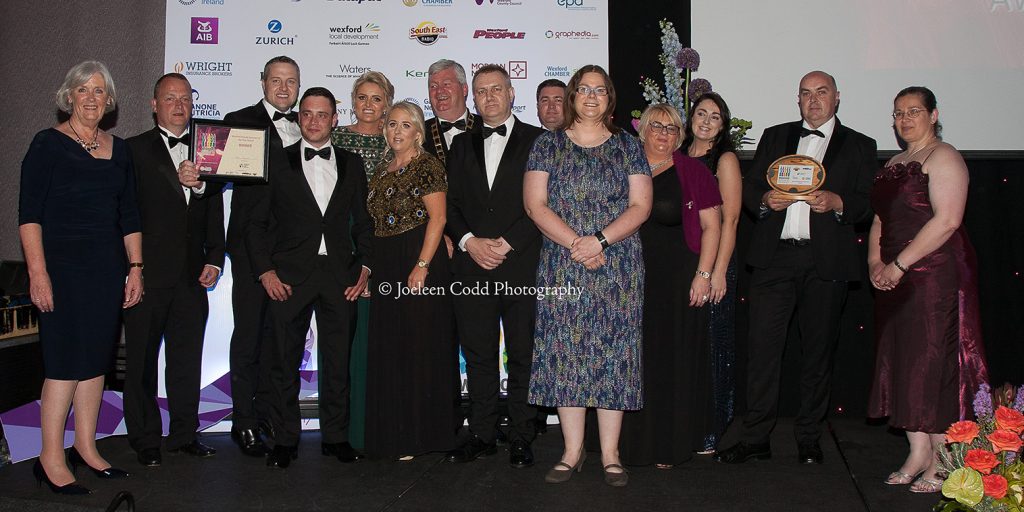 Wexford Chamber's President's Award sponsored by Monart Destination Spa
Winner:  Des Pettitt, Pettitt's SuperValu St. Aidans
Energising Wexford Award sponsored by Gas Networks Ireland
Winner:   The Irish National Heritage Park
The Irish National Heritage Park has successfully implemented a "green" project into the Visitor Centre over the last 3 years.

Runner Up:  Kia Ora Mini Farm
Kia Ora Mini Farm Ltd. is very aware that its operational aspects can affect climate change and have environmental implications. As a result, they are strongly focused on minimising adverse effects and maximising positive effects.
Wexford Tourism Award – Success and Innovation sponsored by Rosslare Europort
Winner: Wexford Spiegeltent Festival
The only festival across Ireland and Britain that uses a Spiegeltent as its sole venue, with the branding of the festival matching the vintage appeal of the Spiegeltent itself.
Runner Up: Marlfield House Hotel and The Duck Terrace Restaurant
Marlfield is a 19 bedroom country house set on 36 acres of manicured gardens, long established as one of Ireland's finer country house hotels, maintaining the highest standards  of luxury, cuisine and service.
Wexford Operational Excellence Award sponsored by Datapac
Winner: Mary Barry's Seafood Bar & Restaurant
Mary Barry's is renowned for their seafood and so much more, the premises has been recently refurbished inside and out, and they are always incorporating more local produce.
Runner Up: Dulann Limited
Dulann.com provides complete eLearning solutions via a seamless and cost effective cloud platform to organisations and government departments that wish to significantly reduce training costs and at the same time improve customer service and operational standards.
Wexford eCommerce Award sponsored by AIB Bank Wexford
Winner: Dulann Limited
Dulann.com's offering is unique as they are the only eLearning Company in Ireland where their courses can be bought directly online, removing the need to email or telephone-order course.
Runner Up: Lantern Events
Lantern Events employ an integrating e-commerce ticketing system, so a customer account is applicable for all their festivals and events.  All their events have a uniqueness to them, which makes them stand out from other festivals/events.
Wexford Retail Excellence Award sponsored by Zurich Insurance
Winner: Greenacres
Greenacres  provides a unique and authentic experience, with attention to detail and a personal, yet professional service, sourcing from local suppliers for art, services, produce and day to day maintenance.
Runner Up: Pettitts SuperValu, Saint Aidans
Pettitt's is known  for superior customer service and quality fresh produce, they are strongly committed to supporting the local community and the Pettitt family have a long  history of retailing in Wexford.
Wexford Investing in the Professions Award sponsored by Wright Insurance Brokers
Winner: Baker Tilly Hughes Blake
Membership of Baker Tilly International has led to an exciting business development – as the Irish Baker Tilly firm, they are now operating at a completely different level than before. Referrals from all over the world are now coming in to their office on a daily basis.
Runner Up: Fortune's Pharmacy
Fortune's Pharmacy strives to be at the forefront of their profession and their pharmacists are encouraged to take part in pilot programmes for new services – This has made a huge contribution to the service we provide to our patients.
Wexford Large Company of the Year sponsored by PwC
Winner: Nolan Transport
Nolan Transport owns and operates one of the largest fleets of road transport equipment throughout Europe with a dedicated team of specialist IT programmers who develop cutting edge bespoke transport & logistics ERP systems that can be used worldwide.
Joint Runner Up: Pettitt Group~
The ever expanding Pettitt Group pride themselves on innovation and are continuously introducing new ideas in order to improve business performance and customer satisfaction.
Joint Runner Up: Griffin Group Hotels Ltd
Ferrycarrig Hotel, Monart and Hotel Kilkenny – The Griffin Group ethos is to provide best in class products with unbeatable service standards.
Wexford SME of the Year Award sponsored by Waters Technologies Ireland Ltd
Winner: The OmniPro Group
The OmniPro Group provide a range of technical and consulting services to accountants throughout Ireland and the UK.
Runner Up: Halo TIles & Bathrooms, Tom Doyle Supplies
Halo Tiles & Bathroom have supplied projects of varying sizes and value across the country and have a long history of working in close association with local designers and contractors to find solutions to projects inside and outside of Wexford. 
Wexford Export & Logistics Award sponsored by Rosslare Europort
Winner: Nolan Transport
Nolan Transport have a large fleet of trucks on the road everyday –  they can be at any collection point in Ireland within 2-4 hours, 4-8 hours in the UK, 8-24 hours in Northern Europe and 1-2 working days for Southern Europe.
Joint Runner Up: Scurri
In just six years Rory O'Connor has led Scurri, a multi-award winning start-up, to become one of the fastest growing and most agile cloud based delivery management solutions in Europe.
Joint Runner Up: Rochefreight Ireland Limited
Rochefreight is one of the leading specialists in Transport, Logistics, Warehousing and Supply Chain Management, they offer a complete range of specialist services.
  Wexford Social Media/Digital Marketing Award sponsored by Wexford People
Winner: Tweeting Goddess
The Tweeting Goddess is a Top influencer on social media and has trained numerous businesses and start-ups on how to use social media and has created a digital strategy for them.
Joint Runner Up: Graphedia Limited
Graphedia is a fresh full-service digital design & marketing agency, their job is to make companies look and sound superlative so they attract more customers and make more money!

Joint Runner Up: Powerhouse PR
Powerhouse PR's success lies in the creation of innovative and tailor made communications campaigns, which are bespoke, and created for the specific brand needs in order to reach strategic business goals.
   Wexford Customer Service Excellence Award sponsored by Danone Nutricia
Winner: Fergus Flanagan Architects Ltd
Fergus Flanagan Architects Ltd use the latest technology in 3D computer modelling. Their 3D Software allows their clients to fly through their projects on their lap tops, phones or ipads.
Runner Up: Clayton Whites Hotel
Clayton Whites Hotel ensure their service standards are consistently high at every opportunity.  They strive for success, are enthusiastic about what they do, and take responsibility for getting things right.
 Wexford Corporate Social Responsibility Award sponsored by BNY Mellon
Winner: Datapac
The values of Datapac's CSR programme mirror the corporate values of their business by placing emphasis on partnerships, quality, legacy and people development. Over their 35 years in business their CSR activity has undertaken a number of partnerships and initiatives so that they can give something back to communities both in Wexford and beyond. 
Joint Runner Up: Graphedia Limited
CSR and giving back to the community has been part of Graphedia since its inception back in 2000.  They work in conjunction with a number of Charities and local clubs to help improve their facilities and events. 
Joint Runner Up: Wexford MarineWatch
Since its inception in 2012, Wexford MarineWatch has been extremely successful in preventing suicide by drowning in the Wexford Harbour area and along Wexford Quays and Bridge.  Wexford MarineWatch volunteers are always available to provide assistance and expertise to anyone who is interested in setting up similar organisations around the country.
Wexford R & D Innovation Award sponsored by Carlow IT Wexford Campus
Winner: CRI Wexford
CRI is almost exclusively an exporter, exporting to countries including, but not exclusive to US, China, South Africa, US, Canada and Israel.  They are constantly trying to improve their products and technology, to enable them to deliver consistent quality products to their customers.
Runner Up: Future Nutrition
Future Nutrition manufacture top quality sports and nutritional beverages and powders using the best ingredients which are produced in their quality assured facility.  There is a belief in their company that through continuous R&D and constant product and  process improvement they can ensure a leading position for Future Nutrition into the future.
Wexford Start-up Business of the Year Award sponsored by Local Enterprise Office Wexford
Winner: Summit Scaffolding limited
Summit Scaffolding Limited offer a wide range of services to their clients including hire, sales and labour only.  Providing employment to 33 full time and 2 part time staff since start up.
Runner Up: Talbot Suites at Stonebridge
Talbot Suites at Stonebridge opened their doors on the 18th June 2016. The building features 73-luxury apartments located less than 100 metres from the four-star family owned Talbot Hotel.
Wexford Community Award sponsored by Wexford Local Development
Winner: Wexford Community Services Council
Wexford Community Services Council provides a Day Care Centre for older people where they can receive treatments, friendship, meals, and  personal and nursing care.
Runner Up: Kilmuckridge Community & Family Resource Centre
Kilmuckridge Community & Family Resource Centre have pro-actively researched the training needs in Kilmuckridge and its environs from local businesses and the Local Employment Services, they support local people to develop skills for employment through their WWETB/LTI training programme.
Wexford Overall Business of the Year Award sponsored by Wexford County Council
Winner: Nolan Transport
Nolan Transport owns and operates one of the largest fleets of road transport equipment throughout Europe. With over 50 years' experience in the transport industry, a motivated workforce along with cutting edge technology, they aim to provide their customers with a first class service and full visibility throughout the transport process.