COUNTY WEXFORD BUSINESS AWARDS – WINNERS & RUNNERS UP 2018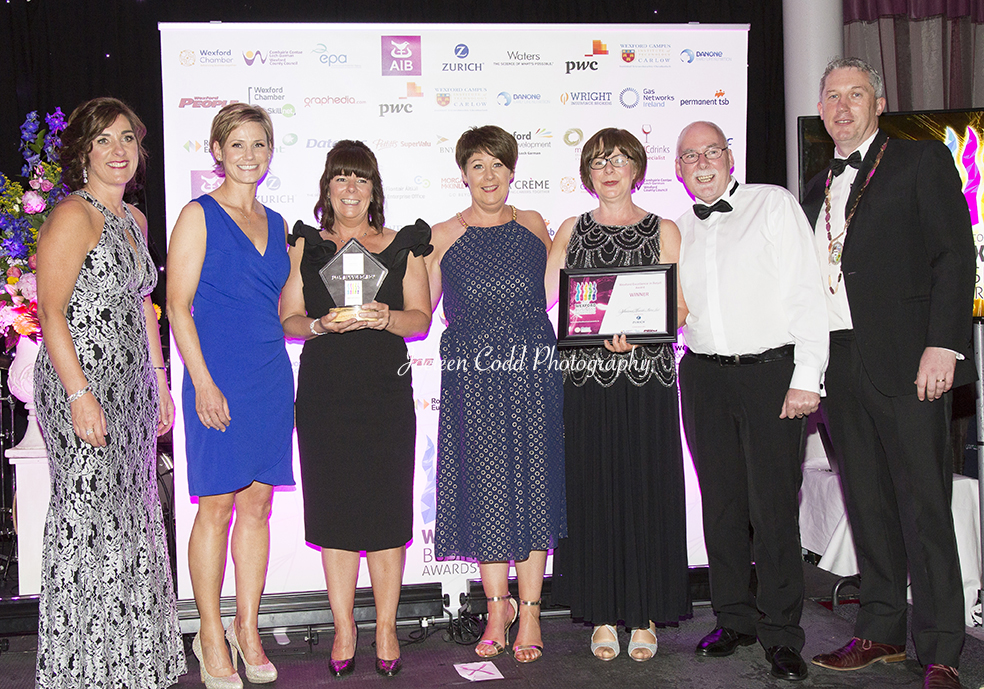 Wexford Business of the Year Award Sponsored by Wexford County Council
WINNER:                     Wexford Bus
Wexford Outstanding Contribution to Business Award Sponsored by Monart Destination Spa
WINNER:                     Madeleine Quirke
Madeleine has worked relentlessly and her dedication and commitment to Wexford town and district over 10 years has made a valuable contribution to the development of the business, social and environmental landscape that is County Wexford today. She has supported many different community organisations and businesses working to bring new facilities, new changes and driving regional development that has added to the fabric of our community.

Wexford Tourism Award – Visitor Attraction/Activity of the Year Award Sponsored by Rosslare Europort
WINNER:                     International Outdoor Adventure Centre & Camping Grounds
Based in Tagoat and run by Adrian & Carmel Tennant, the IOAC campus boasts a High Ropes Park, multiple challenge apparatus, a purpose-built activity lake for kayaking and raft building, archery, shooting range and much more.  What makes the IOAC unique is that they also have bespoke Camping Grounds on campus, consisting of a Campervan and Touring Caravan area, a large Camping area for tents with 70 pitches, all with access to electricity!  And as if all that wasn't enough, IOAC have a Glamping Village for the glamourous campers, a dedicated International Scout and Guide campsite which can hold over 2,500 at any given time, and their very own 800+ seated Amphitheatre, a fantastic outdoor venue for festivals and events!
RUNNER UP:              Club Choice Ireland
Wexford Tourism Award – Hospitality Provider of the Year Award Sponsored by Rosslare Europort
WINNER:                     Clayton Whites Hotel
Offering the largest conference facilities and health centre, Clayton Whites Hotel are tourism brand ambassadors offering diverse value propositions and monitoring customer service through "Trust You" online reputation management.  Clayton Whites Hotel have invested over €3m since 2015 delivering top class hospitality to business and independent visitors.
RUNNER UP:              Mary Barry's Seafood Bar & Restaurant
Wexford Excellence in International Trade Award Sponsored by Rosslare Europort
WINNER:                     Kent Stainless
Kent Stainless lead in the design and manufacture of bespoke stainless steel products and engineering solutions to a wide variety of industries serving the global marketplace. ISO accredited and currently employing 100 staff, their products include street furniture, medical equipment, ventilation grills and places include Riyadh Metro, Doha Light rail and Luas Expansion.
RUNNER UP:              Medentech
Wexford Operational Excellence Award Sponsored by Datapac
WINNER:                     Pure Oil Ltd
Pure Oil Ltd is one of Ireland's largest suppliers of cooking oil to the catering trade with innovative collection systems using bespoke vehicles and processing 50,000 mts of used oil and fats for the biodiesel industry.  Employing 30 staff nationwide, the company collects used cooking oil and grease waste and converts them into renewable energy instead of throwing it away.  David Simmons (Director, Pure Oil) vision is 100% resource recovery for the food industry.
RUNNER UP:              Reynaers Ltd
Wexford eCommerce Excellence Award Sponsored by AIB Bank Wexford
WINNER:                     Wexford Bus
Owned by Brendan & Lorene Crowley since 1996, Wexford Bus has continuously extended the number of routes operated and the number of services per route. A new customer focused website was launched in May 2017 with a 89% increase in the value of online bookings, a new on board ticket validation systems developed for all web bookings and a seat reservation system is invaluable service for many daily commuters. Carrying over 9,000 passengers per week, Wexford to Dublin, allows for a seamless service.
RUNNER UP:              Mr Oil
Wexford Excellence in Retail Award Sponsored by Zurich Insurance
WINNER:                     Natural Health Store Ltd
The Meehan family pride themselves on personal customer care with years of knowledge, experience and a trusted reputation within the health food industry. With a great passion, The Natural Health Store offer top quality products that are affordable, supplements, whole foods, homeopathic products, allergy care products and gifts. Lots of free talks and workshops with various therapists and classes every week offering a rounded holistic approach to health and wellbeing.
RUNNER UP:              Halo Tiles & Bathrooms
Wexford SME of the Year Award (1-50 Employees) Sponsored by Waters Technologies
WINNER:                     Summit Scaffolding Ltd
A very young ambitious company with a broad client base that pride themselves on their "hands on' experience and knowledge in all aspects of scaffolding, knowing  all the highs and lows of the trade. Employing a team of over 30 people, Keith & David Dwyer, Directors at Summit Scaffolding, are driving to be at the top of their trade as a respected,  trusted,  quality long-term employer.
RUNNER UP:              YellowBelly Bear
Wexford SME of the Year Award (50 + Employees) Sponsored by Pettitt's SuperValu St. Aidans
WINNER:                     Reynaers Ltd
Established in Enniscorthy in 1982, Reynaers Ltd are a leading European specialist in the development of aluminium solutions for doors, windows, sliding systems, conservatories. Based in over 40 countries worldwide they export to 70 countries on 5 continents. Employing 60 staff in the South East Region, there are 3 divisions system – sales, finished elements and group component manufacturing.
RUNNER UP:              Kerlogue Nursing Home
Wexford Social Media and Digital Marketing Excellence Award Sponsored by Wexford People
WINNER:                     Nailbou
Natalie Flanagan, Director/Owner at Nailbou brings highly trained and experienced staff with specialist depth of knowledge and care in nails, lashes, wax, tanning and skin cellar. The business has grown since 2015 through strong focused online strategy with all staff contributing on a daily basis.
RUNNER UP:              Talbot Suites at Stonebridge
Wexford Excellence in Corporate Social Responsibility Award Sponsored by BNY Mellon
WINNER:                     K & K Windows Ltd
The business focal point and values of K&K Windows are 3 P's – People, Profit and Planet or 3 E's Ethical, Economical and Environment. These values are consistently intertwined in the organisation and branch out to the wider community including work with Pieta House & Alzheimer's Society of Ireland or local GAA team sponsor. Recycling materials and waste to protect the planet and work/life balance are key to the organisation structure.
RUNNER UP:              Halo Tiles & Bathrooms
Wexford Social Enterprise Outstanding Achievement Award Sponsored by Wexford Local Development
WINNER:                     Wexford Arts Centre
Wexford Arts Centre proudly delivers a creative arts programme through workshops, events in music, theatre, dance, film, literatures, exhibitions and performance arts – a positive creative wellbeing impact, reaching over 45,000 visitors locally, regionally, nationally and internationally under the direction of Executive Director Elizabeth Whyte.
RUNNER UP:              Kilmore Quay Community Development Association CLG (KQCDA)
Wexford Start-Up Business of the Year Award Sponsored by Morgan McKinley/La Crème and Supported by LEO Wexford
WINNER:                     Abodoo
Adodoo is a careers platform that matches remote and flexible workers to jobs. A free to register jobs site, with algorithms that link worker experience to employer's role requirement and only contact with 80% match saving time and money for businesses. Flexibility and remote working solutions – the smart working revolution network!
RUNNER UP:              International Outdoor Adventure Centre & Camping Grounds

Wexford Family Business of the Year Award Sponsored by PwC
WINNER:                     K & K Windows Ltd
Located just outside Gorey, K & K Windows is one of Irelands leading manufacturers and installers of uPVC aluminium products for residential and commercial clients. Established in 1995, K&K Windows are committed to best design, quality and low E energy glazed units. Family values and investing in training, communication and technology offer a strong competitive advantage.

RUNNER UP:              Smyths Arro
Wexford Training Provider of the Year Award Sponsored by Carlow IT Wexford Campus
WINNER:                     The Omnipro Group
The OmniPro Group provide consultancy, advisory and training products and services to the accountancy profession to make their work more profitable and rewarding.  A one stop shop for Accountants, for Education, Training, Auditing, Company Law, Taxation.  Under the direction of Des O'Neill, Co-Founder and Managing Director, the company provides fully interactive online CPD, live web event series plus streaming multiple feed videos of speakers, slides, live reviews, and on-screen annotation of mater.  Their online CPDStore.com portal gives opportunities for global expansion meeting customer needs and satisfaction.
RUNNER UP:              Dulann
Wexford Service Industry Provider of the Year Award Sponsored by Danone Nutricia Wexford
WINNER:                     Wexford Bus
Owned by Brendan & Lorene Crowley, Wexford Bus is a private bus company which has been operating since 1996, employing almost 50 staff and has a fleet of 27 buses and coaches. Wexford Bus carries more than 750,000 passengers across its services connecting Wexford with Dublin city & airport – 38 services a day, Waterford to Wexford – 16 services a day, Carlow to Wexford – 6 times a day. Daily local urban services within Wexford town & Rosslare, Castlebridge & Kilmore Quay.
RUNNER UP:              Fergus Flanagan Architects Ltd
Wexford Food & Beverage Producer of the Year Award Sponsored by Wright Insurance Brokers
WINNER:                     Trudies Kitchen Ltd
Trudie Power of Trudies Kitchen has been producing Gold Standard Coeliac approved Salads to the Catering & Retail trade in the Leinster area since 2000.  With 23 employees and Q Mark accreditation for the past 18 years, Trudies Kitchen offer bulk salads for deli bars, retail packs for chill units and lunch time ready to go range.
RUNNER UP:              O'Neills Dry Cure Bacon Co.
Wexford Green Award: Environmental Best Practice Sponsored by Gas Networks Ireland
WINNER:                     The Upcycle Movement
The Upcyle Movement promotes the creative reuse of items that would otherwise go into landfill, turning unwanted material into well designed products. Neo Collection of wetsuit products into bags and accessories. Lynn Haughton, Founder & Designer, offers upcycle talks in schools and community groups. Sold online through facebook and local stores in Wexfrod.
RUNNER UP:              Danone Nutricia Wexford

Wexford Franchise of the Year Award Sponsored by Permanent TSB
WINNER:                     Bricks 4 Kids Wexford
With over 40 locations worldwide Bricks 4 Kidz teaches the principles of Science, Technology, Engineering & Maths (STEM) to 3 to 16 year olds using LEGO. Designed by engineers and architects the activities are delivered through educational play in schools, community centres and libraries. Learning and creating in 3D using LEGO is great fun, happy and engaging for all participants expanding kids understanding of engineering concepts and vocabulary.
RUNNER UP:              Sherry FitzGerald Haythornthwaite