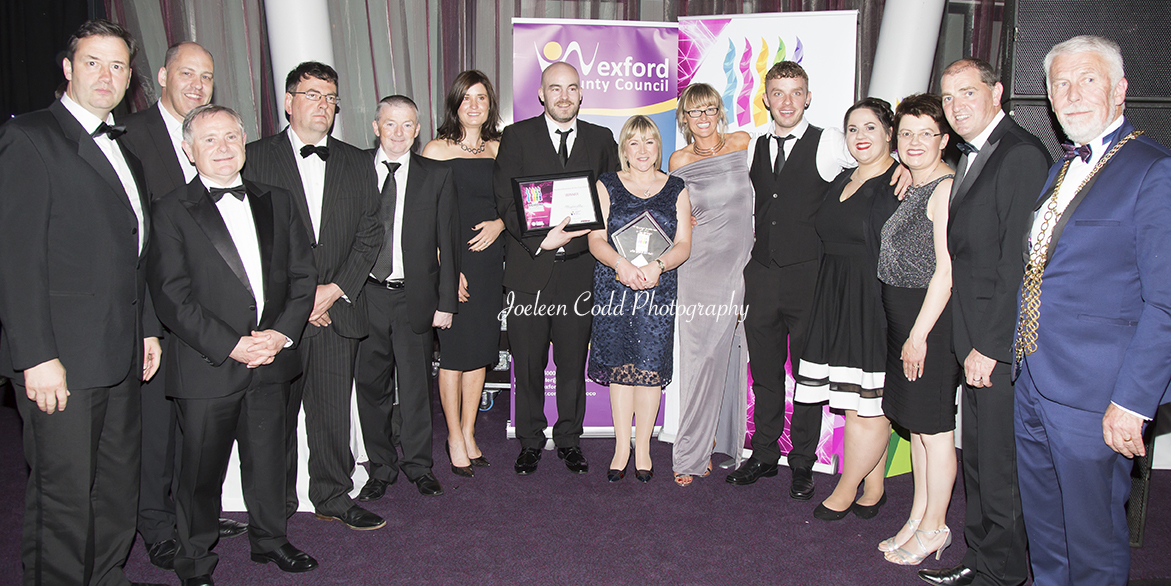 JUDGING IS over and tension is mounting as we are just a few days away from finding out who the winners and runners up of the 18 business award categories and the overall 2019 Wexford Business of The Year Award will be.
Sponsored by Wexford County Council and by Wexford People, Wexford Chamber in association with New Ross and Gorey Chamber is proud and honoured to present the 11th Wexford Business Awards.  The Wexford Business Awards were created in 2009 in order to recognise the achievements of local businesses and reward them for their commitment to excellence and customer service.   18 categories, 160 applications, 500 + attending the Gala Ceremony on Friday 24th May in Clayton Whites Hotel – 10 years later the 2019 Wexford Business Awards has grown exponentially year on year into what is now one of the most prestigious business events in the country.
Well known broadcaster, business man and former politician Ivan Yates will host this year's awards ceremony. Speaking about his involvement on the night, Mr. Yates said "I am honoured and delighted to have been invited to act as MC for this very prestigious event.  A fantastic opportunity to showcase and celebrate the very best in County Wexford business.  I know the night will be a great success, and I am very much looking forward to it."
The event raises the whole profile of County Wexford and injects pride and confidence amongst employees and businesses, including the start-up industry.   The awards demonstrate Wexford Chamber's determination to promote the strength and viability of Wexford in terms of its innovation and genuine desire to achieve progress on a national and international scale.  Wexford is leading the way.
Graham Scallan, President of Wexford Chamber, said "We were absolutely delighted with the broad range of business submissions for the awards this year" said President of Wexford Chamber, Graham Scallan. "The support we have from businesses across the County in terms of applications and sponsorship has been phenomenal. The very best of luck to everybody"
The evening will include music by Wexford's very own Divine Intervention and a prize draw with all proceeds going to Ard Aoibhinn, who have been providing support services within County Wexford for 24 years to members of the community who have intellectual disability and special needs.
View the list of shortlisted finalists on www.wexfordbusinessawards.ie or email denisefarrell@wexfordchamber.ie for more information.
-Ends-