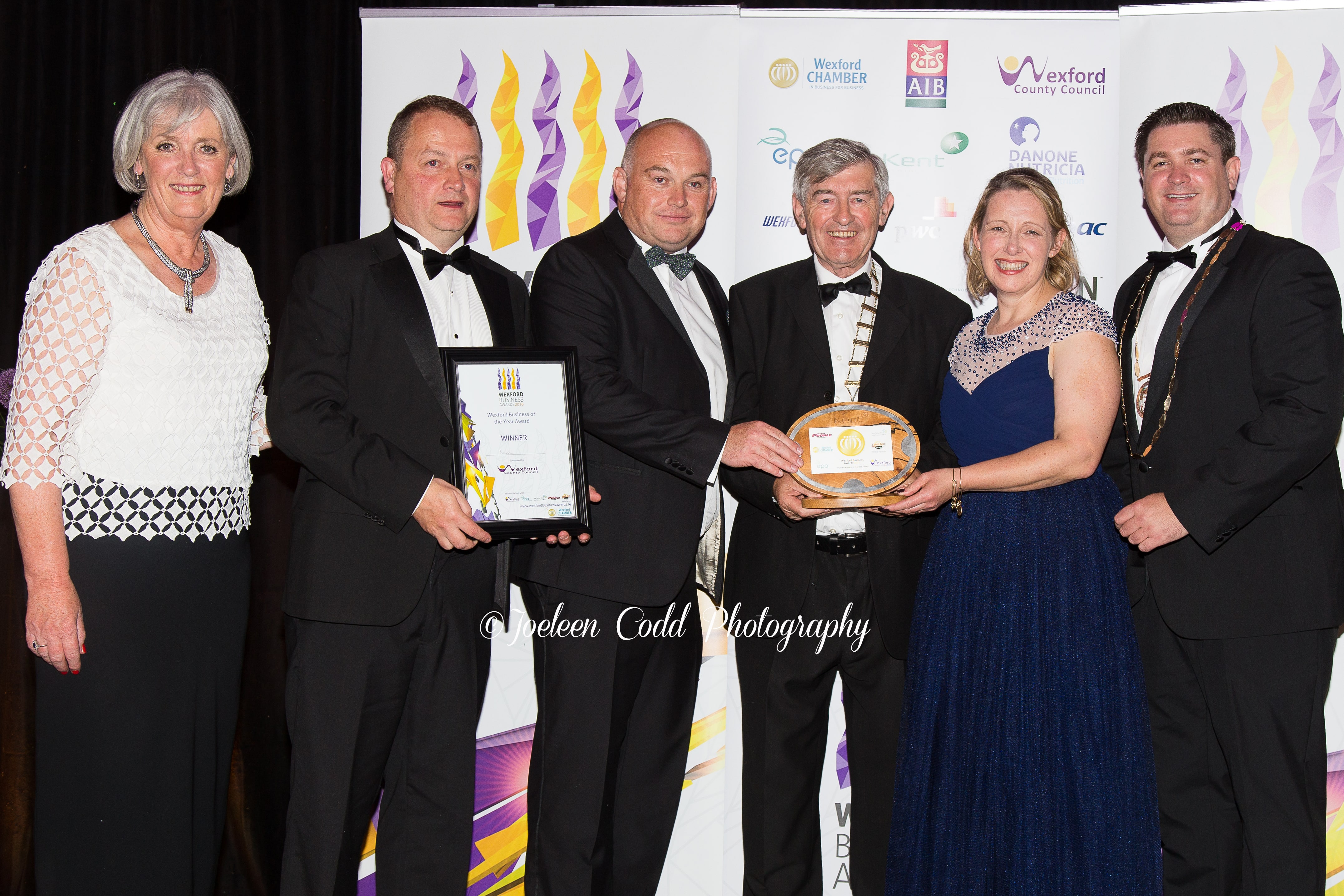 Wexford Customer Service Excellence Award sponsored by AIB

Winner:

Pettitt's SuperValu, Saint Aidans –This supermarket has a strong reputation for being customer and community focused. Their customer service is excellent. A huge amount of time and effort is put into working with local suppliers to offer customers high quality, local produce at good value prices.

Runner Up:

Chapz Barbers Ltd

Wexford eCommerce & Social Media Award sponsored by ESET Ireland.

Winner:

Scurri – Founded in Ireland in 2010 by Rory O'Connor (CEO) with the vision to make delivery simple for ecommerce. Fuelled by the global growth in online shopping, Scurri has offices in Wexford, Dublin and London.

Runner Up:

Joyces Expert Wexford

Wexford Logistics Award sponsored by Rosslare Europort

Winner:

Rochefreight Group – Established in 1983, Roche Logistics Group is Ireland's leading global provider of transportation and logistics services, moving goods worldwide safely, quickly, efficiently – no consignment too big or too small

Joint Runner Up:

Scurri and Irish Sea Contractors

Wexford Large Company of the Year Award sponsored by PwC

Winner:

Danone Nutricia Early Life Nutrition (Wexford) – A major global business, focusing exclusively on products that bring health benefits to their consumers. Danone is the world leader in Dairy, Water and Baby nutrition products, with well-known brands including Actimel, Evian and Cow & Gate.

Runner Up:

Sam McCauley Chemists Group

Wexford Innovation Award sponsored by RIKON

Winner:

Scurri – A cloud based carrier management platform that integrates parcel carriers and merchants, quickly and cost effectively. Scurri technology is used to manage parcel deliveries for some of the world's biggest online retailers.

Runner Up:

O'Connell Marketing, Sales & Communications

Wexford SME of the Year Award sponsored by Waters Technologies

Winner:

Carragh Paving & Landscapes – Having established a national reputation as "the paving and landscaping experts" Wexford based company Carragh Paving & Landscapes continues to deliver the very highest standard of work.

Runner Up:

Wexford Home Preserves

County Wexford Food Producers of the Year Award in association with the Wexford Food Family sponsored by Danone Nutricia

Winner:

Wexford Home Preserves – A family business, run by Tom and Laura Sinnott who have been making the very best jams, marmalades and other delicious preserves for more than 25 years – using all natural ingredients and making all of their preserves by hand.

Runner Up:

O'Neills Dry Cure Bacon

Wexford Green Business Award sponsored by Environmental Protection Agency

Winner:

Retrofit Ireland – A brand leader in energy awareness and the building of energy efficient homes. This company constructs new buildings to the optimum attainable energy rating and also offers service to retrofit existing homes to the same high levels of energy efficiency.

Runner Up:

Irish Country Meats

Wexford Retail Excellence Award sponsored by Zurich Insurance

Winner:

Natural Health Store – A family-run health store in the heart of Wexford's busy Main Street, where you will find a Nutritional Therapist, a Food Intolerance Tester, a Bach Flower Practitioner, a Beauty Therapist, and a Hair Mineral Analysis practitioner.

Runner Up:

Ferrybank Motors

Wexford Operational Excellence Award sponsored by Datapac

Winner:

Talbot Hotel Wexford – The 4* Talbot Hotel Wexford is ideally located in the heart of Wexford Town. It is one of the finest hotels in the county offering exceptional service – it boasts a vibrant bar, conference facilities and a fully equipped leisure centre and swimming pool.

Runner Up:

All In One Event Hire

Wexford Training & Development/Excellence through People Award sponsored by Wexford Chamber Skillnet

Winner:

Gainfort Academy – Provides training focusing on the latest trends and techniques for qualified professionals in the hair and beauty sector – offering students the most comprehensive & complete training packages.

Runner Up:

Gorey Institute of Beauty

Wexford Tourism Award – Attractions & Activities sponsored by Rosslare Europort

Winner:

Mary Barry's Seafood Bar & Restaurant – Renowned for its locally caught fresh seafood from Kilmore Quay and offering specials on a daily basis at superb value. In the summer months you can even choose your own oysters and lobsters fresh from the in-house sea tank.

Runner Up:

Loftus Hall

Wexford Corporate Social Responsibility Award sponsored by Wexford Bus

Winner:

BNY Mellon – Corporate Social Responsibility (CSR) is at the core of this company's business strategy. It enables them to power global investments and growth, earn the trust of their clients and stakeholders, and innovate for a better world.

Runner Up:

Guardian Fire & Security

Wexford Micro Enterprise Award sponsored by Wexford Local Development

Winner:

Morriscastle Strand Holiday Park – a four star tourist caravan, camping and private mobile home site, owned and operated by the Darcy Family with the present generation carrying on the family business which has been going since 1969. Morriscastle was one of the first Irish camping destinations.

Runner Up:

Kia Ora Mini Farm

Wexford Start-up Business of the Year Award sponsored by Local Enterprise Office Wexford

Winner:

The Nail Boutique – Provides a service that brings innovative products, a wide range of colours and the latest techniques from the nail industry and at the same time provides a relaxed and social atmosphere for clients to have a tea/coffee and to socialise with each other.

Runner Up:

Aroma Beauty Pod

Wexford Business Ambassador of the Year Award sponsored by Monart Destination Spa

Winner:

Conor Brennan, Zurich Insurance – Chief Executive Officer at Zurich, Conor is a consummate professional, who understands what it means to lead others, to navigate change and to balance the needs of the business with the needs of clients in an authentic fashion. Conor is astute, intuitive and strategic. In addition to his business acumen and commercial sense Conor's key strength lies is his ability to build enduring relations, an imperative for success.

Wexford Chamber's President's Award sponsored by Clayton Whites Hotel

Winner:

Bert Allen – a very successful Wexford entrepreneur. Bert and the Allen family have had enormous success in their many business ventures including the Linden Food Group, which includes Slaney Food and Irish Country Meats, the Bewley Hotel chain, a property portfolio in Germany and the United Kingdom. They are also investors in wind energy among many more successful enterprises. Bert is a collector of iconic Irish furniture designer Eileen Gray's work, and has restored her former home, Brownswood House in Wexford.

Overall Wexford Business of the Year Award sponsored by Wexford County Council

Winner:

Scurri – winner of this year's eCommerce and Social Media Award, Innovation Award and joint runner-up of the Logistics Award. Scurri provides a cloud based carrier management platform that integrates parcel carriers and merchants, quickly and cost effectively. Scurri believe in great customer service to their ecommence clients which can be demonstrated by their NPS (net promoter score) of 8 which is the highest in their industry. They understand their customers' needs which can be demonstrated by the innovative approach of providing a smart labelling technology that extends the delivery of their clients brand message directly to their client customer's hands.